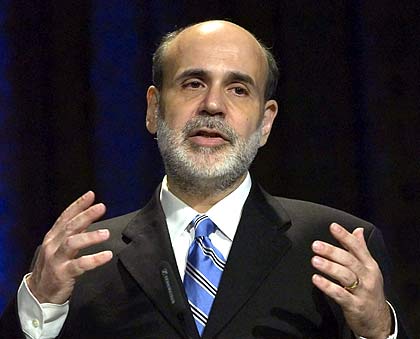 It comes as no surprise in the financial circle: Federal Reserve Chairman Ben S. Bernanke is set to be nominated by the President Obama to a second term. Having led the economy out of the biggest slump since the great depression, Obama notes that "because of his background, his temperament, his courage, and his creativity", the Fed Chief is "responsible for preventing another (Great Depression)".
Pro and Anti Bernanke
Despite Obama's glowing commentaries and the results of his work in the economy, Bernanke still has to have tough questioning by the Senate. A lot of lawmakers believe that he had been too slow in identifying the severity of the mortgage problem and that he did not protect consumers as much as he has helped struggling financial firms such as the American International Group Inc. and Bear Stearns Co.
Bernanke is already endorsed by the Banking Committee head, Christopher Dodd. According to Dodd, "While I have serious differences with the Federal Reserve over the past few years, I think reappointing Chairman Bernanke is probably the right choice". Other officials that recommended Bernanke include National Economic Council Chairman Larry Summers, Treasury Secretary Tim Geithner, and Chief of Staff Rahm Emanuel. For his part, Obama wants to reappoint the current Fed Chief because he wanted to keep the team that helped the US weather the crisis to remain intact.
Guiding the Economy Back to Growth
It's undeniable that there's still a cloud hanging over everyone's head because of the financial crisis. In spite of government assurances, it is still definitely not over. A few signs of hope are starting to appear though. For example, Standard & Poor's 500 Index Futures showed improvement due to reports that the decline in US house prices is slowing down.
The Fed Chief is most noted for slashing the interest rate to near zero and pumping around a trillion dollars into to banking sector. If he is reappointed, he will need to reduce an unemployment rate that is almost 10 percent, guide the economy back to shape, and shrink the Fed's balance sheet to avoid uncontrollable inflation.
Related Articles: